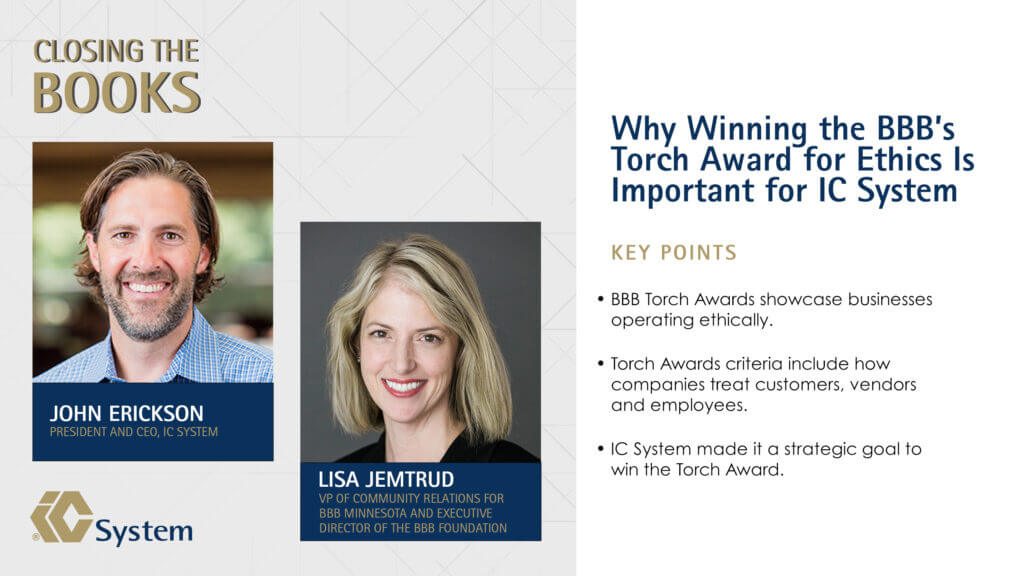 The Better Business Bureau (BBB) has long been an organization that seeks to build trust between businesses and consumers. Most people are familiar with their grading, which is the result of customer reviews. They also have the Torch Awards for Ethics, and IC System is a 2021 winner.
Discussing the award and what it means, Closing the Books host Tyler Kern spoke with IC System President and CEO John Erickson and Lisa Jemtrud, VP of Community Relations for BBB Minnesota.
Jemtrud explained the basics of the award. "Its purpose is to lift up those businesses showcasing ethics, and it's been held annually since 2000."
Next, Jemtrud discussed eligibility for the Torch Award. "You don't have to be accredited with the BBB but must have a letter grade of B or better. The company must be in the service area of Minnesota or North Dakota and be in a good financial position. Additionally, the business can't have a record of complaints or government actions."
Beyond those specifications, the determination of a winner focuses on four main aspects: how a company treats its customers, vendors. and employees, as well as what they are doing for the community. An independent panel of judges from various industries also looks at the application and how it describes how the company executes ethics daily.
John noted that IC System has long appreciated its affiliation with the BBB and its A+ rating. "We've been applying since 2010 and had been runner up before winning this year. The award embodies everything we're trying to do at IC."
IC System was so committed to this they even put winning the Torch Award for Ethics in their strategic plan. "It lines up with our core values, and it was a part of our strategy. We view it as a great accomplishment."
Listen and Subscribe