Debt Collection Services Made Simple
Your office has unpaid invoices from consumers that you need collected. It's time to find a debt collection agency that turns past-due accounts into revenue using a consumer-friendly approach. IC System ensures that we maintain your valued relationships using an ethical, consumer-friendly approach to our debt recovery services.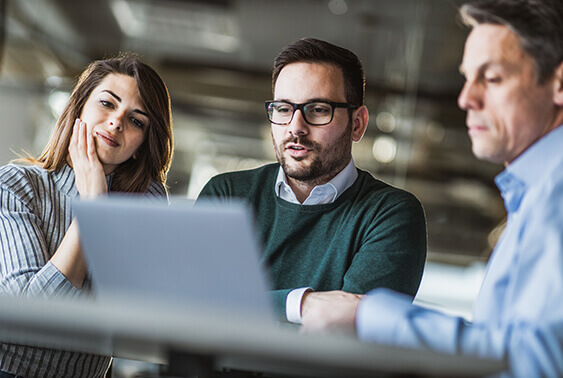 Proven Debt Collection Services Built For Your Business
Our flexible debt collection programs adjust to your business needs. The best debt recovery program will depend largely on your company's current needs. Work with the experts at our debt collection company, and we'll find a program will be right for your situation. We will help you recover more revenue and maintain your healthy customer relationships.
View Programs & Pricing
Recovery Plus
A two-phased recovery program with letters-only and intensive collection treatments offered at a competitive flat rate. During the letters phase, you keep 100% of the money recovered.
Premier Collect
Contingency-based and adjustable debt collection program. Fees for this program are flexible based on your business needs.
What Makes Us Unique
Nationwide Recovery Services
100% US-based agency licensed nationwide with an average client tenure of 16 years
Over 80 Years of Expertise
Proven collection strategies forged by our third-generation, family-owned business
Consumer-Friendly Approach
Focused on maintaining your partnerships through ethical methods that work
Data Security
Rigorously audited security and compliance protocols to protect your data
Painless Process
You need a simple but effective approach to your accounts receivable, and you need it fast. Our debt recovery services make it easy to pick a product, securely place accounts, and start to improve the financial outcomes of both you and your consumers.
See How it Works
Not Sure Where to Start for Your Business?
Our experts can help develop the right approach to debt collection for your business. We'll talk about your goals and accounts receivable inventory to create a solution that will increase your revenue. Together, let's find the debt collection service that's right for your business.
Contact Us
Is Your Collection Partner Ready for Regulation F?
The CFPB has implemented new rules, known as Regulation F, requiring collection agencies to obtain additional information from creditors sending past-due accounts for collection.
Regulation F has changed the collection industry. Find out how this could impact your business.
Read More