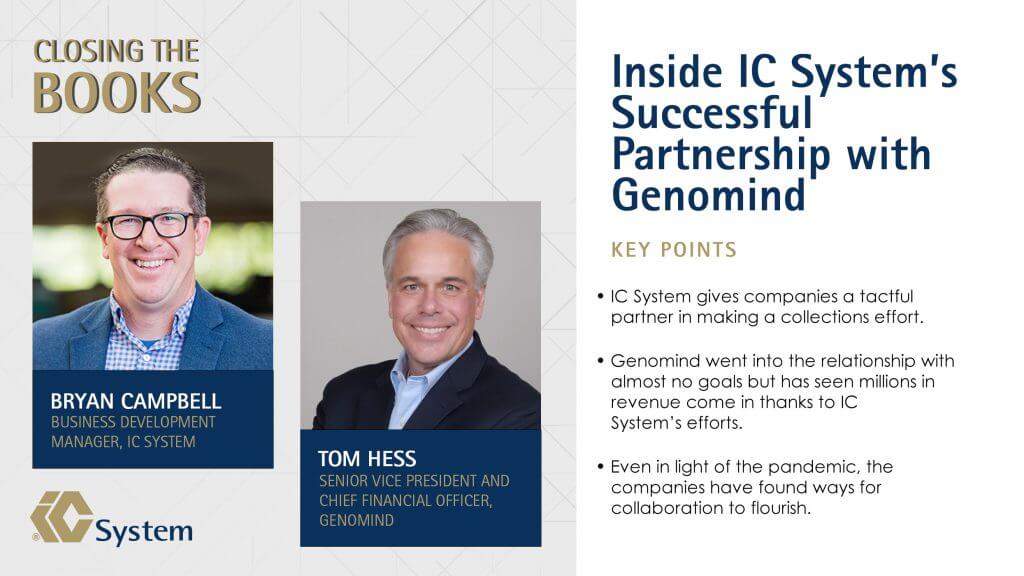 Finding a perfect match can be difficult, but sometimes things just click. That's the case with IC System and Genomind.
Genomind, a company utilizing genetics as a data point in diagnosing mental health challenges, wanted a recovery agency that, instead of aggressively going after those who hadn't yet paid for the services provided, would take a tactful approach.
"We didn't set any goals other than we didn't want patients to be upset and didn't want them to call the doctors and upset the doctors, which would cascade into them calling our sales reps," said Thomas Hess, Senior Vice President and Chief Financial Officer of Genomind. "We had zero expectations for collections. Our goal was just not to upset people."
Genomind had chatted with other companies in the same space as IC System and ran a pilot with IC once Hess found the IC System website and was impressed with the transparency, family-oriented nature of the business and site design.
Rather than simply not upsetting people, Genomind found a success rate that far outpaced their goals, leading to millions of dollars added in revenue and recovery.
Genomind was an ideal client for IC System, said Bryan Campbell, Business Development Manager, since IC System is always happy to modify its approach and work with each client on an individual basis.
The partnership looked a bit different during the pandemic, but the companies were able to come together using virtual meeting platforms to make sure everyone was reaching their goals.
"Everybody's doing the same thing, but we at IC System, from a sales standpoint, say that everybody is operating at the same way. You've got to do it better," he said. "You have to build those relationships and make sure those carry through in a new way and stronger way. We just got after that. They were real treats to able to get on, to use the new technology and depend on it rather than just being on the phone. It's like we haven't missed a beat."
Listen and Subscribe: