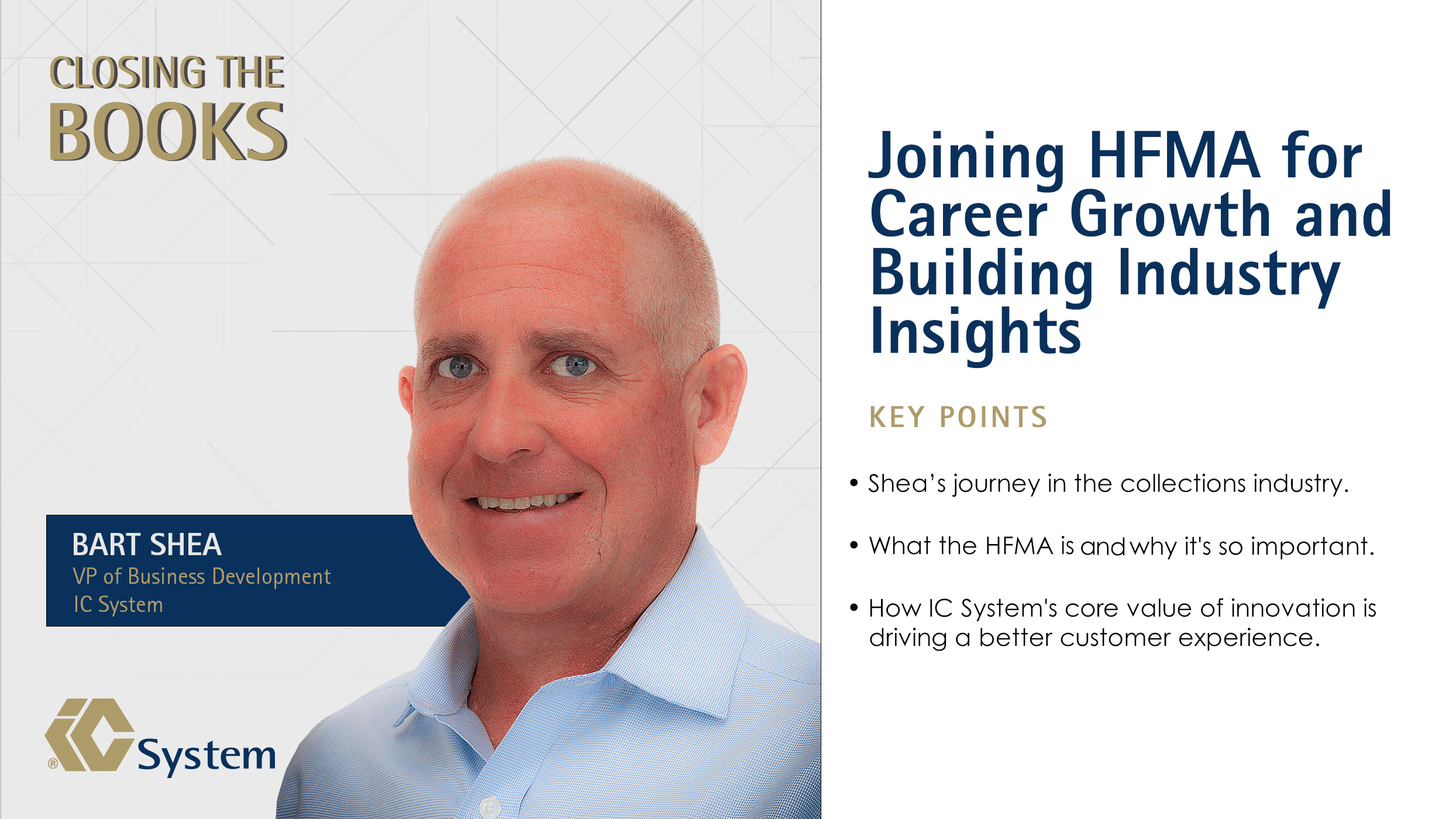 Collections in general, but especially in the healthcare industry, require delicacy, patience, and intelligence, all while ensuring the company meets revenue goals and the client's customer experience is cared for. IC System's specially trained collections experts make this possible, by engaging in industry boards such as the Healthcare Financial Management Association (HFMA) and employing innovative tools as allowed by significant regulation.
On the newest episode of Closing the Books, a podcast by IC System, IC System's  Bart Shea, VP of Client Development, shares his personal journey in the industry, his passion for the HFMA, and his industry insights with host Gabrielle Bejarano.
The two discuss…
1)    Shea's journey in the collections industry
2)    Why participation in the HFMA is so important
3)    Where Shea sees debt recovery going in 2023 and beyond
"It's near and dear to my heart with making sure that our industry is up to speed on the changes in healthcare, whether that be from a compliance standpoint or just an actionable standpoint…but I think that the HFMA is truly one of the good vehicles that us as service providers…can actually have really good conversations with prospects that attend HFMA shows," said Shea.
Shea, VP of Client Development at IC System, has been with the company for over two years as the VP of Client Development. He holds over two decades of experience in healthcare receivables management and previously spent time as the VP of Client Development – West for MedAssist and the National Director of Client Development for RevSolve, Inc. He is an HFMA Certified Revenue Cycle Representative (CRCR) and current President of the HFMA Arizona Chapter.