Our Roots in Dentistry
IC System's dental debt recovery services will collect your past-due accounts while preserving your sensitive patient relationships. Our dental collection services ensure that your staff saves time from having to recover patient debts. Whether you're part of a large clinic or a single-dentist practice, our products like Recovery Plus and Premier Collect will meet your needs, allowing you to focus on what's important: the oral health of your patients.
Our recovery plans offer a diverse array of collection products and services, including phone calls and letters, but also options such as credit reporting on dental accounts receivable. Our products provide a higher rate of returned revenue, while our friendly patient financial counselors ensure your dental patients will return to your office after paying their bill. Sign up for a FREE QUOTE below and learn why IC System's extensive experience as a dental collection agency makes all the difference.
Blog: Learn how dentists can increase revenue by having better financial discussions with patients
Download: Not ready for a collection agency? We can help you make better collection calls from your office. Download our FREE whitepaper on Why Nice People Collection Bad Debt.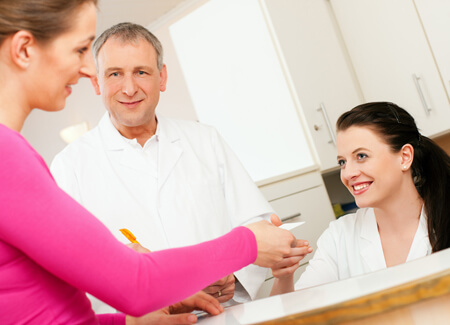 What Our Clients Think
"We have been a partner for many years – 20+ years – and are very happy with the service. Very helpful and friendly customer service reps. The online tools are the best. I have been able to locate patients with your address finder before sending them to collections, which allows them another chance to pay."
Roxanne
Dr. Barry Beauchamp, DDS
"We are so pleased with your collections for our practice. You are really working our accounts for us. The past companies we used hardly did anything for us. We highly recommend your company."
Peggy
Robert J. Naples DDS – Oral and Maxillofacial Surgery
"We have been with I.C. System for over 15 years. I have checked around and am happy to say for our volume, your company has been the best. Whenever I call, everyone is helpful and ready to do their part to answer my questions about specific accounts."