Our Roots in Dentistry
IC System's dental debt recovery services will collect your past-due accounts while preserving your sensitive patient relationships. Our dental collection services ensure that your staff saves time from having to recover patient debts. Whether you're part of a large clinic or a single-dentist practice, our products like Recovery Plus and Premier Collect will meet your needs, allowing you to focus on what's important: the oral health of your patients.
Our recovery plans offer a diverse array of collection products and services, including phone calls and letters, but also options such as credit reporting on dental accounts receivable. Our products provide a higher rate of returned revenue, while our friendly patient financial representatives ensure your dental patients will return to your office after paying their bill. REQUEST PRICING and learn why IC System's extensive experience as a dental collection agency makes all the difference.
Download our Dental Overview PDF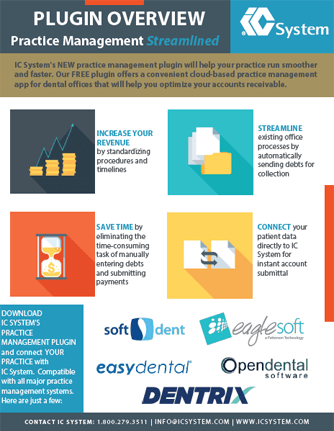 Practice Management Plugin
IC System's NEW practice management plugin will help your practice run smoother and faster. Out FREE plugin offers a convenient, cloud-based practice management app for dental offices that will help you optimize your accounts receivable.
OUR PLUGIN WILL: 
• Streamline existing office processes by automatically sending debts for collection
• Connect your patient data directly to IC System for instant account submittal
• Save time by eliminating the time-consuming task of manually entering debts and submitting payments
• Increase your revenue by standardizing procedures and timelines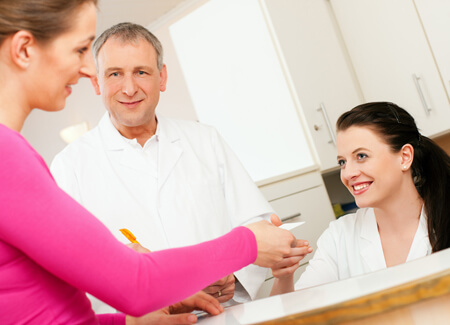 What Our Clients Think
I love IC System because they have great customer support. I always get the answers I need in a professional, timely manner. I would recommend them to anyone who needs a collection agency.
One of the best things I like about IC System is the collection format form. They make the process to fill out the form so simple! Thanks IC System!
Lori
All Smiles Dentistry
I love the fact that I get instant access to accounts and activity online. I would recommend IC System to to anyone looking for a user-friendly collections agency. Thanks for all you do!